The long-awaited day has finally arrived, and Shanghai Disneyland has reopened after a three and a half month closure due to coronavirus! We may have to social distance, but that can't stop the magic of Disney! Although, the first Disney park to reopen is definitely not the same as it used to be!
Getting Into The Park
Getting into Shanghai Disneyland is a lot different than it once was, as all guests have to get their temperatures checked before they enter. People will not be able to enter the park if their temperature is above 37.3 degrees Celcius or 99.1 degrees Fahrenheit. Then, you'll through the normal check, including a check for your Health QR Code.
Riding Attractions
Riding rides has also been a very different experience for guests since Shanghai Disneyland has reopened. Wait times for the rides were around 5 minutes for most of the day, probably because not as many people were allowed into the parks. Also, since people have to stand 3 feet apart from each other, not as many groups are allowed in the ride queues at a time.
Rides like Pirates Of The Caribbean where parties are normally grouped together have only one group in each row and an empty row in between each group. You'd think this would result in longer wait times, but as I already mentioned, the wait times were very short for most of the day.
Character Experiences
You may think that seeing the characters while social distancing might not be possible, but it is! In fact, some characters actually welcomed guests into the park! (From a safe distance of course.) Guests are getting to have character experiences, but they cannot come in contact with the characters to keep everyone safe.
Dining
Obviously people still have to eat, but that doesn't mean social distancing can stop. So at the restaurants at Shanghai Disneyland, there is still space in between each group that's eating. Although looking at these pictures there weren't very many people in the restaurant at a time.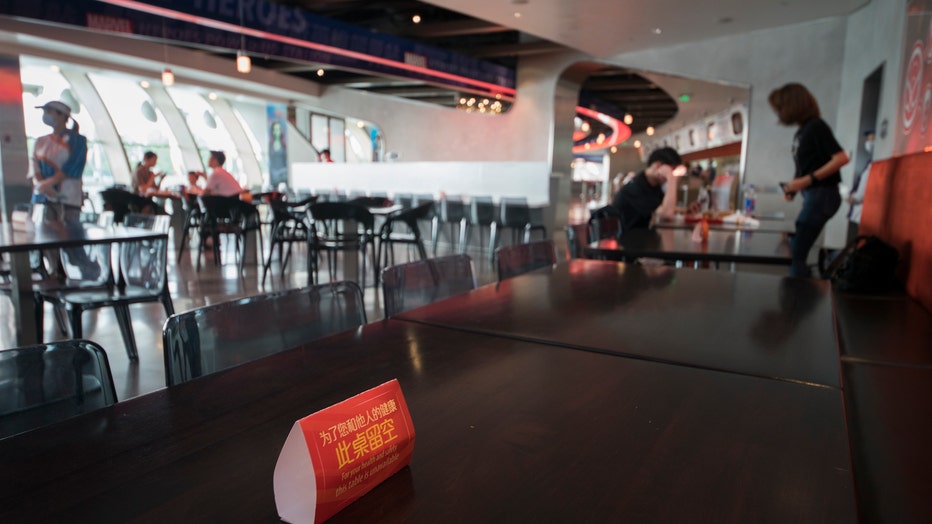 Overall
In the end, Shanghai Disneyland is pretty different than it ever has been in the 3 years it's been open. But, hopefully, this will all pay off, and Shanghai Disneyland reopening will pave the way for the other Disney parks reopening also!